Seaga Envision ENV4S Snack 32 Select Vending Machine
Many Great Features In This Heavy Duty Glass Front Snack Machine
$4,685.00
SELECT SHIPPING ACCESSORIAL OPTIONS
In stock
Description
Seaga Envision ENV4S Snack 32 Select Vending Machine can dispense a wide range of snack related products with a standard capacity of 468 items. This 4 product wide machine comes loaded with some incredible features as you can see.  This machine is priced to include the coin changer and dollar bill validator. Optional Credit Card Reader available from Optional Accessories.

Features
Guaranteed Delivery System
Motorized  Coin Return System
4.3″ LCD Color Display
Over-sized product bin for larger products
Brilliant LED lighting lasts up to 50,000 hours
Braille keypad
Great customer interaction including jackpot giveaway settings and value meals or meal deal settings
MDB capable, DEX ports available
Removable trays with first in/first out (FIFO) product loading capability
Adjustable trays and Dual coils are standard
Instant display of audit totals when front door is opened
Minimum SKU numbers for easy parts inventory
Inter-changeable parts with all Seaga Premium Collection equipment
The simplest machines to service in the industry
Custom configurations available for non-traditional vending like DVD's, CD's, Electronics, Cigarettes and more
MADE IN U.S.A.
HERE ARE THE ePort PRODUCT FEATURES AVAILABLE FROM THE "OPTIONAL ACCESSORIES"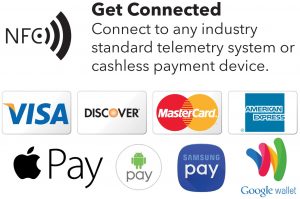 Specifications
| | |
| --- | --- |
| Capacity: |  468 Items Total with Standard Configuration as Shown |
| Electrical: | 115 VAC – 60 Hz – 4 Amps |
| Listings: | Intertek Listed, SA, NAMA Listed, RoHs Compliant |
| Actual Dimensions: | H 72″ x W 35″ x D 37″ |
| Machine Construction: | Sturdy, hard-wearing all steel design |
| Payment System: | Conlux 5 Tube Changer & Dollar Bill Acceptor |
| Warranty: | One year manufacturer's warranty |
| Actual Weight: | 465 lbs. |
| Shipping Weight: | 525 lbs. |
| Shipping Length: | 40″ |
| Shipping Width: | 48″ |
| Shipping Height: | 75″ |
Warranty
One Year Manufacturers Parts Warranty
READ THIS MANUAL COMPLETELY: Your vendor is designed to operate simply and reliably, but to take full advantage of your vendor, please read this owners manual thoroughly. It contains important information regarding installation and operations, as well as a brief trouble-shooting guide.
EQUIPMENT INSPECTION: After you have received your vendor and have it out of the box, place it on a secure surface for further inspection. Note: Any damages that may have occurred during shipping must be reported to the delivery carrier immediately. Reporting damages and the seeking of restitution is the responsibility of the equipment owner. The factory is willing to assist you in this process in any way possible. Feel free to contact our Customer Care Department with any questions you may have on this process. Once you have your vendor located, we suggest that you keep your service manual for future reference. Should any problems occur, refer to the section entitled trouble-shooting guide. It is designed to help you quickly identify a problem and correct it.
MANUFACTURERS WARRANTY: WHAT IS COVERED: Manufacturer warrants TO THE ORIGINAL PURCHASER ONLY that each item of equipment manufactured is free from defects in material and workmanship under normal use and service. Manufacturers obligation under warranty shall be limited to repair or replacement, at our plant, of any parts of the equipment which shall within one year of the date of shipment to the original purchase, be demonstrated to be defective. THE ORIGINAL PURCHASER MAY OBTAIN REPAIR OR REPLACEMENT OF THE EQUIPMENT UNDER WARRANTY BY RETURNING THE DEFECTIVE ITEM OR ENTIRE VENDOR TO THE MANUFACTURER, FREIGHT PREPAID.
WHAT IS NOT COVERED: Manufacturers warranty obligations DO NOT EXTEND TO OR INCLUDE installation expenses, vandalism, or difficulties resulting from failure to operate equipment in accordance with Manufacturers instructions under competent supervision and difficulties due to changes in vended products, which are beyond the control of manufacturer
SPECIAL NOTE: Manufacturer is not responsible for any loss of income due to a vending machine being out of service due to a warrantable item. This warranty is in lieu of all the other warranties, expressed or implied, including the warranty of merchantability and fitness or use, and of all other obligations or liabilities on Manufacturers part. Manufacturer neither assumes, nor authorizes any other person to assume for it, any other liability in connection with the sale of equipment manufactured by itself. This warranty shall not apply to equipment manufactured or any part thereof which is subject to accident, negligence, alteration, abuse, misuse, or damage in shipment. The term original purchaser, as used in this warranty, shall be deemed to mean that person for whom the equipment is originally installed. Manufacturer is not liable for any incidental, consequential or other damages of any kind whatsoever, directly or indirectly, arising from the use of the equipment whether based upon theories of contract negligence or tort. Effective 01/2007
For more information please contact Online Vending Machine Sales & Service, Inc. at Toll Free:855-282-8363
Shipping
PLEASE NOTE
SHIPPING LEAD TIMES HAVE INCREASED DRASTICALLY DUE TO SUPPLY CHAIN SLOW DOWNS PLUS A HEAVIER THAN NORMAL VOLUME OF INCOMING BUSINESS FOR THIS SUPPLIER.
This item can be shipped within 4-5 weeks from the warehouse VIA Curb Side LTL (Less Than Truck Load) for equipment weighing more than 75 pounds, or via FedEx Ground Delivery service for items under 75 lbs. Allow a few days on the road with the shipping carrier. PLEASE NOTE: Our shipping/delivery quotes are to anywhere in the continental USA. This item can only be shipped to the 48 contiguous states. Please call should you require a shipping quote to Hawaii, Alaska, or Puerto Rico. Shipping to other Countries & destinations may also be available. We do not ship to APO/FPO/DPO.