The Prosper MultiBeverage Vending Machine
18 Selection Beverage Vending Machine with 300 Product Capacity Possible and Live Display
$5,779.00
SELECT SHIPPING ACCESSORIAL OPTIONS
In stock
Description
THE PROSPER MULTI-BEVERAGE VENDING MACHINE

Today's consumer wants to be able to choose from a variety of the latest beverages and only The Prosper gives you the power to load up with these high margin products.
The time is over for placing 7-10 selection stack vendors with their limited offerings; they simply miss today's marketplace.
Why spend more on a glass front or struggle to set up and maintain an average stack vendor when we have a preferred Lean Vendor?
Higher profit margins and expanded options; all with a lower cost.
Features
Interlock Door Construction for Added Security

Slide-In Cooling Deck

Not all models available in all countries

Seamless Payment System Integration

Energy Saver Settings

Scroll Pricing Display

High-Efficiency Refrigeration

18 Selections, from 20 Columns
Easy to fill, with drop-down retainers
Unrivaled Product Flexibility
300 Product Capacity

Designed & Manufactured in America

MADE IN U.S.A.
HERE ARE THE ePort PRODUCT FEATURES AVAILABLE FROM THE "OPTIONAL ACCESSORIES"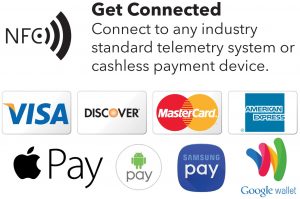 Specifications
| | |
| --- | --- |
| Selections & Capacity: | 18 Selection from 20 Colums & 205 Standard Beverages and 300 Beverages Max Capacity |
| Refrigeration System: | Easy Access to removable refrigeration deck |
| Electrical: | 115 VAC – High Energy Efficiency 1,314 kWh Per Year |
| Listings: | Intertek Listed, SA, NAMA Listed, RoHs Compliant |
| Actual Dimensions: | H 72″ (183 cm) x W 39″ (99 cm) x D 34″ (86 cm) |
| Machine Construction: | Sturdy, hard-wearing all steel design |
| Payment System: | MDB Coin Changer & Dollar Bill Validator |
| Actual Weight: | 811 lbs. |
| Shipping Weight: | 835 lbs. |
| Depth: | 34″ |
| Width: | 39″ |
| Height: | 72″ |
Warranty
One Year Manufacturers Parts Warranty
READ THIS MANUAL COMPLETELY: Your vendor is designed to operate simply and reliably, but to take full advantage of your vendor, please read this owners manual thoroughly. It contains important information regarding installation and operations, as well as a brief trouble-shooting guide.
EQUIPMENT INSPECTION: After you have received your vendor and have it out of the box, place it on a secure surface for further inspection. Note: Any damages that may have occurred during shipping must be reported to the delivery carrier immediately. Reporting damages and the seeking of restitution is the responsibility of the equipment owner. The factory is willing to assist you in this process in any way possible. Feel free to contact our Customer Care Department with any questions you may have on this process. Once you have your vendor located, we suggest that you keep your service manual for future reference. Should any problems occur, refer to the section entitled trouble-shooting guide. It is designed to help you quickly identify a problem and correct it.
MANUFACTURERS WARRANTY: WHAT IS COVERED: Manufacturer warrants TO THE ORIGINAL PURCHASER ONLY that each item of equipment manufactured is free from defects in material and workmanship under normal use and service. Manufacturers obligation under warranty shall be limited to repair or replacement, at our plant, of any parts of the equipment which shall within one year of the date of shipment to the original purchase, be demonstrated to be defective. THE ORIGINAL PURCHASER MAY OBTAIN REPAIR OR REPLACEMENT OF THE EQUIPMENT UNDER WARRANTY BY RETURNING THE DEFECTIVE ITEM OR ENTIRE VENDOR TO THE MANUFACTURER, FREIGHT PREPAID.
WHAT IS NOT COVERED: Manufacturers warranty obligations DO NOT EXTEND TO OR INCLUDE installation expenses, vandalism, or difficulties resulting from failure to operate equipment in accordance with Manufacturers instructions under competent supervision and difficulties due to changes in vended products, which are beyond the control of manufacturer
SPECIAL NOTE: Manufacturer is not responsible for any loss of income due to a vending machine being out of service due to a warrantable item. This warranty is in lieu of all the other warranties, expressed or implied, including the warranty of merchantability and fitness or use, and of all other obligations or liabilities on Manufacturers part. Manufacturer neither assumes, nor authorizes any other person to assume for it, any other liability in connection with the sale of equipment manufactured by itself. This warranty shall not apply to equipment manufactured or any part thereof which is subject to accident, negligence, alteration, abuse, misuse, or damage in shipment. The term original purchaser, as used in this warranty, shall be deemed to mean that person for whom the equipment is originally installed. Manufacturer is not liable for any incidental, consequential or other damages of any kind whatsoever, directly or indirectly, arising from the use of the equipment whether based upon theories of contract negligence or tort. Effective 01/2007
For more information please contact Online Vending Machine Sales & Service, Inc. at Toll Free:855-282-8363
Shipping
PLEASE NOTE
SHIPPING LEAD TIMES HAVE INCREASED DRASTICALLY DUE TO SUPPLY CHAIN SLOW DOWNS PLUS A HEAVIER THAN NORMAL VOLUME OF INCOMING BUSINESS FOR THIS SUPPLIER.
This item can be shipped within 4-5 weeks from the warehouse VIA Curb Side LTL (Less Than Truck Load) for equipment weighing more than 75 pounds, or via FedEx Ground Delivery service for items under 75 lbs. Allow a few days on the road with the shipping carrier. PLEASE NOTE: Our shipping/delivery quotes are to anywhere in the continental USA. This item can only be shipped to the 48 contiguous states. Please call should you require a shipping quote to Hawaii, Alaska, or Puerto Rico. Shipping to other Countries & destinations may also be available. We do not ship to APO/FPO/DPO.