Cassida Quattro-4 Way Automatic Counterfeit Detector
Includes A/C Adapter & Rechargeable Lithium Ion Battery
$275.00
In stock
Description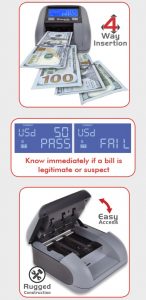 4-WAY AUTOMATIC
COUNTERFEIT DETECTOR
Easiest to use and powerful, too!
The Cassida Quattro is the world's best automatic counterfeit detector and it's also the easiest to use. Insert bills in any orientation — face up or face down — and instantly know whether the bill is genuine or suspect. Easy to understand PASS and FAIL indicators show if bills are legitimate or should be rejected, while the denomination of the bill is registered on screen.
Counterfeit Shield Guarantee
Quattro is backed by the exclusive Cassida Counterfeit Shield that promises we'll reimburse you the full face value of the counterfeit bill within 72 hours, should your Quattro detector accept it as genuine. We're so confident in the Quattro, because it has state-of-the-art detection built right in. Terms and conditions apply.
Features
• All available counterfeit detections and analysis are included for state-of-the-art performance and security
• Rechargeable battery allows you to use Quattro anywhere
• Never worry about taking counterfeit or bleached bills again
• Exclusive Counterfeit Shield Guarantee
• Immediate PASS and FAIL indication
• Catches fakes pens and UV lights miss
• Insert bills in any direction
• Instant currency verification
THE OPTIONAL THREE YEAR WARRANTY MAY ONLY BE PURCHASED AT THE SAME TIME THIS MACHINE IS PURCHASED. IF INTERESTED, PLEASE SELECT THIS OPTION FROM BELOW.
Specifications
| | |
| --- | --- |
| Model Range: | Quattro |
| Power Supply Input: | 100-240AC/50-60Hz |
| Power Supply Output: | DC9V/Battery 5W |
| Rechargeable Lithium Battery: | 7.2V/1000mAh |
| Power Consumption: | 5W |
| Unit Dimensions: | 4.9" W x 2.9" H x 4.95" D (125 * 74 * 139 mm) |
| Net Wt: | 1.32 lbs. (.6Kg) |
| Warranty: | 1-year parts and labor warranty |
| UPC: / SKU: | UPC:857287002926 SKU: D-QWB |
Warranty
All Cassida products carry a 1-year limited parts and labor warranty from the date of purchase. Warranty coverage does not include maintenance, cleaning, or normal wear due to usage (i.e. removing dust or debris from sensors, replacing rubber rollers, rubber mats, rubber belts, etc.). During the warranty period, Cassida will repair or replace all merchandise which proves to be defective. Cassida does not warranty any product which has been subjected to improper freight handling/shipping abuse, neglect or unauthorized repair.
Shipping
All Items are shipped via UPS ground. PLEASE NOTE: Our shipping/delivery quotes are to anywhere in the continental USA. This item can only be shipped to the 48 contiguous states. Please call should you require a shipping quote to Hawaii, Alaska, or Puerto Rico. Shipping to other Countries & destinations may also be available. We do not ship to APO/FPO/DPO.