Cassida Model C-200 Coin Counter-Sorter-Wrapper
Coin Counter-Sorter-Wrapper
$212.00
In stock
Description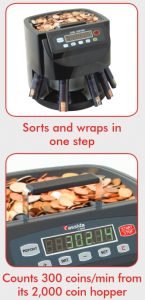 A Complete Solution to Coin Counting
The Cassida C200 is an all-in-one solution for any coin handling need. Easy to use, it counts, adds, batches, and wraps automatically.
­Easy to use
The C200 recognizes individual denominations and sorts them automatically into large bins. No dials and no knowledge of coin dimensions required. Just load the hopper, press start, and walk away. Grand total of all coins is displayed and detailed reports for each denominations are within a button's reach.
­Counting, adding, and batching
The C200 includes all the counting modes you would expect to find on a Cassida-designed coin sorter. Batch mode counts amounts as low as 1 coin or as high as 500. An easy-to-read LED display shows both number of coins and dollar amount for each denomination, as well as the grand total.
­One step sorting and wrapping
It takes only seconds to exchange the C200's bins for the included wrapping attachments. One button sets roll batch amounts for all denominations and C200 stops automatically when a wrapper is full, great for fast-paced environments where there is a need to switch between wrapping and bulk sorting.
­Fast, but quiet
The C200 is quiet in operation, even when counting and sorting at 300 coins per minute!
Features
Countable coins:

1¢, 5¢, 10¢, 25¢, $1

Hopper capacity: 2000 coins
Coin bin capacity: 900 coins
Counting speed: 300 coins/minute
Operating modes: Counting mode, adding mode, and batching mode
Batching Mode: range: 1 – 9,999; auto-stop
One button sets batches for all denominations
Adding Mode: range 0 – 999,999
Counting Mode: Simple count; auto-stop
Portable: compact, lightweight, with built-in handle

Quiet in operation

Coin wrapping attachments included
THE OPTIONAL THREE YEAR WARRANTY MAY ONLY BE PURCHASED AT THE SAME TIME THIS MACHINE IS PURCHASED. IF INTERESTED, PLEASE SELECT THIS OPTION FROM BELOW.
Specifications
Model:
C-200
Counting Speed: 
300 coins/min
Coin Hopper Capacity:
2000 coins (dimes)
Countable Coins:
pennies, nickels, dimes, quarters
Dimensions, Unit:
11.2″ w x 10.8″ d x 10.2″ h (284mm x 274mm x 259mm)
Dimensions, Box:
14.5″ w x 14″ d x 12.5″ h (368mm x 356mm x 318mm)
Weight, Unit: 
8.7 lb (4 kg)
Weight, Box:
9.4 lb (4.3 kg)
Power Input:
110 VAC
Power Consumption:
45W
Warranty:
1-year parts and labor warranty
UPC: / SKU:
UPC:

857287002179 SKU:C-C200
Warranty
All Cassida products carry a 1-year limited parts and labor warranty from the date of purchase. Warranty coverage does not include maintenance, cleaning, or normal wear due to usage (i.e. removing dust or debris from sensors, replacing rubber rollers, rubber mats, rubber belts, etc.). During the warranty period, Cassida will repair or replace all merchandise which proves to be defective. Cassida does not warranty any product which has been subjected to improper freight handling/shipping abuse, neglect or unauthorized repair.
Shipping
All Items are shipped via UPS ground. PLEASE NOTE: Our shipping/delivery quotes are to anywhere in the continental USA. This item can only be shipped to the 48 contiguous states. Please call should you require a shipping quote to Hawaii, Alaska, or Puerto Rico. Shipping to other Countries & destinations may also be available. We do not ship to APO/FPO/DPO.