Cassida 85-Basic Ultra Heavy Duty Currency Counter
Ultra Heavy Duty Currency Counter
$699.00
In stock
Description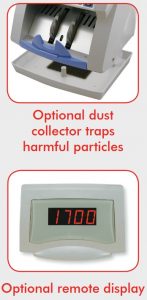 When the Machine is Tough, the Choice Isn't
The Cassida 85 is built one way: tough. Manufactured from durable steel components, it is designed from the ground up for years of high throughput operation in commercial applications.
Worn bills? No problem
The Cassida 85 has been designed to handle both crisp, new bills and bills that are nearing the end of their lives, accurately processing all bills, regardless of condition.
Superior protection against counterfeits
The Cassida 85 has been engineered to tackle counterfeit bills head on. By incorporating dual head MG (magnetic) and dual sensor UV (ultraviolet) detection systems, we've ensured the ultimate protection against counterfeit bills.
Counting, adding, and batching
The Cassida 85 includes all the counting modes you would expect to find on a heavy-duty currency counter, including counts up to 9,999 bills, program batch amounts as low as 1 or as high as 999, and an add + batch mode that allows batching while totaling all counts.
Enhanced user experience
The high capacity 1,000 bill hopper and 3-way selectable speed will ensure an uninterrupted, convenient count, even with the highest volume counts. A built-in handle makes the Cassida 85 easy to move around the office or to take to remote locations.
A healthier way to count money
An optional dust collector helps reduce health risks associated with the airborne micro-particles abundant on bills. Placed under the unit, this unique feature requires no special care and does not interfere with any machine operations.
Features
Three counting speeds accommodate both worn and new bills
Operating modes: Count, add, and batch modes; add + batch mode
High-capacity hopper holds 1,000 new bills
Batch size ranges from 0-999
Auto/manual start option
Rugged, heavy-duty construction
Optional remote display and dust collector
User-adjustable to accommodate a wide range of currency, coupons, tickets and other documents
World-friendly, with a universal input voltage of 100-240 VAC
THE OPTIONAL THREE YEAR WARRANTY MAY ONLY BE PURCHASED AT THE SAME TIME THIS MACHINE IS PURCHASED. IF INTERESTED, PLEASE SELECT THIS OPTION FROM BELOW.
Specifications
Model:
Cassida 85
Operating modes:
ValuCountTM

,

count, add, batch, add + batch

Counterfeit detection:
UV (U and UM models); MG (UM model only)
Error Detection:
 half, double, chain, note-width
Counting Speeds:
900/1200/1500 bills/minute
Hopper capacity: 
1000 bills (new)
Stacker Capacity
300 bills (new)
Countable Bill Size:
4.3″ x 2″ to 7.3″ x 3.5 (109mm x 51mm to 185mm x 89mm)
Batch Size:
0-999 bills
Screen type:
LCD
Dimensions, unit:
10.8″w x 9.2″d x 10.0″h (270mm x 250mm x 230mm)
Dimensions, box: 
14″w x 12.3″d x 14.5″h (356mm x 312mm x 368mm)
Weight, unit:
11.7 lb (5.3 kg)
Weight, box:
14.5 lb (6.6 kg)
Power input: 
110-240 VAC 50-60Hz
Power consumption:
<40 watts
Options:
Remote Display; Dust Collector
Warranty:
1-year parts and labor warranty
UPC /SKU
857287002230  / SKU B–85
Warranty
All Cassida products carry a 1-year limited parts and labor warranty from the date of purchase. Warranty coverage does not include maintenance, cleaning, or normal wear due to usage (i.e. removing dust or debris from sensors, replacing rubber rollers, rubber mats, rubber belts, etc.). During the warranty period, Cassida will repair or replace all merchandise which proves to be defective. Cassida does not warranty any product which has been subjected to improper freight handling/shipping abuse, neglect or unauthorized repair.
Shipping
All Items are shipped via UPS ground. PLEASE NOTE: Our shipping/delivery quotes are to anywhere in the continental USA. This item can only be shipped to the 48 contiguous states. Please call should you require a shipping quote to Hawaii, Alaska, or Puerto Rico. Shipping to other Countries & destinations may also be available. We do not ship to APO/FPO/DPO.